ALI QAPU PALACE
At the west of Maidane Immam (Naghsh-e Jahan), just in front of the Sheikh Lotfollah mosque one, of the most magnificent palaces of 17th century is located. The Ali Qapu palace is well-known palace all over Iran. The first part of palace was built in 1597. It was used as a residential palace. Shah Abbas the great, ordered to construct the palace on the site of palace and garden from the Timurid time. Shah Abbas's palace was a four floors with a veranda. Shah Abbas the second, expanded the palace and a music hall (room) was constructed on the top of palace.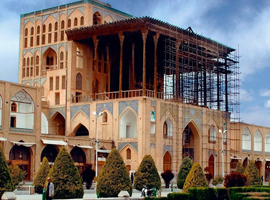 The palace is about 38 meters high, the loftiest and tallest building in the 17th century.
There are 52 rooms, but because a long restoration most of rooms are closed to visitors.
Iranian empire, in 17th century was a serious rival to Ottoman Empire. European countries wished to create hostility between two empires. Their plans and plots were successful. In Istanbul of 17th century there was a palace with the same name.
Some of Isfahanologists believe that Shah Abbas the great highly respected the first Shiite Immam Ali. On the other hand Qapu is a Turkish word means," the magnificent door".
An old door was replaced from the shrine of Immam Ali in Najaf, to Isfahan. All people even the Shah, when they entered the palace dismounted from horses, in order to respect Immam Ali.
Shah Abbas considered himself as a real follower of Immam Ali. A beautiful door ornamented with gold, silver and other fine arts was made in Isfahan and dedicated to the holy shrine of Immam Ali which is located in Najaf Iraq.
Ali Reza Abbasi the prominent artist has worked on glorious miniature paintings. The main reception hall and all other rooms were decorated with fabulous plaster work, plaster carving and miniature paintings.